Follow
Hi lovelies! Do you like my new top of L.A Queen?
Recently I started buying more printed tops than usual. Wearing these tops make your outfit looks more fashionable, as the print on each top is different based on each preferences that can be customized. It allows each to show off their hidden personality that's hard to explore.                                 "Wearing such tops make me feel like a real L.A Queen"
Since I'm already planning my next trip to L.A, it kinds of got me in the mood so I came up with this look, thinking I'm a California girl walking around Venice beach, while watching the sunset.
As one of the cities that has sunny weather all year round, LA is considered to be the city that offers casual and laid back fashion such as bohemian style, that shows up more skin – since people here are into tans, and light clothes. People in LA follow the mindset to wear comfortable clothes and active wear, since Anglinos are seen to lead a healthy lifestyle compared to other cities in LA – the beauty standard here is pretty high. My Look: Contains key pieces that describe what people in LA would wear. They tend to mix casual and classy styles together, which makes them look elegant, but still casual.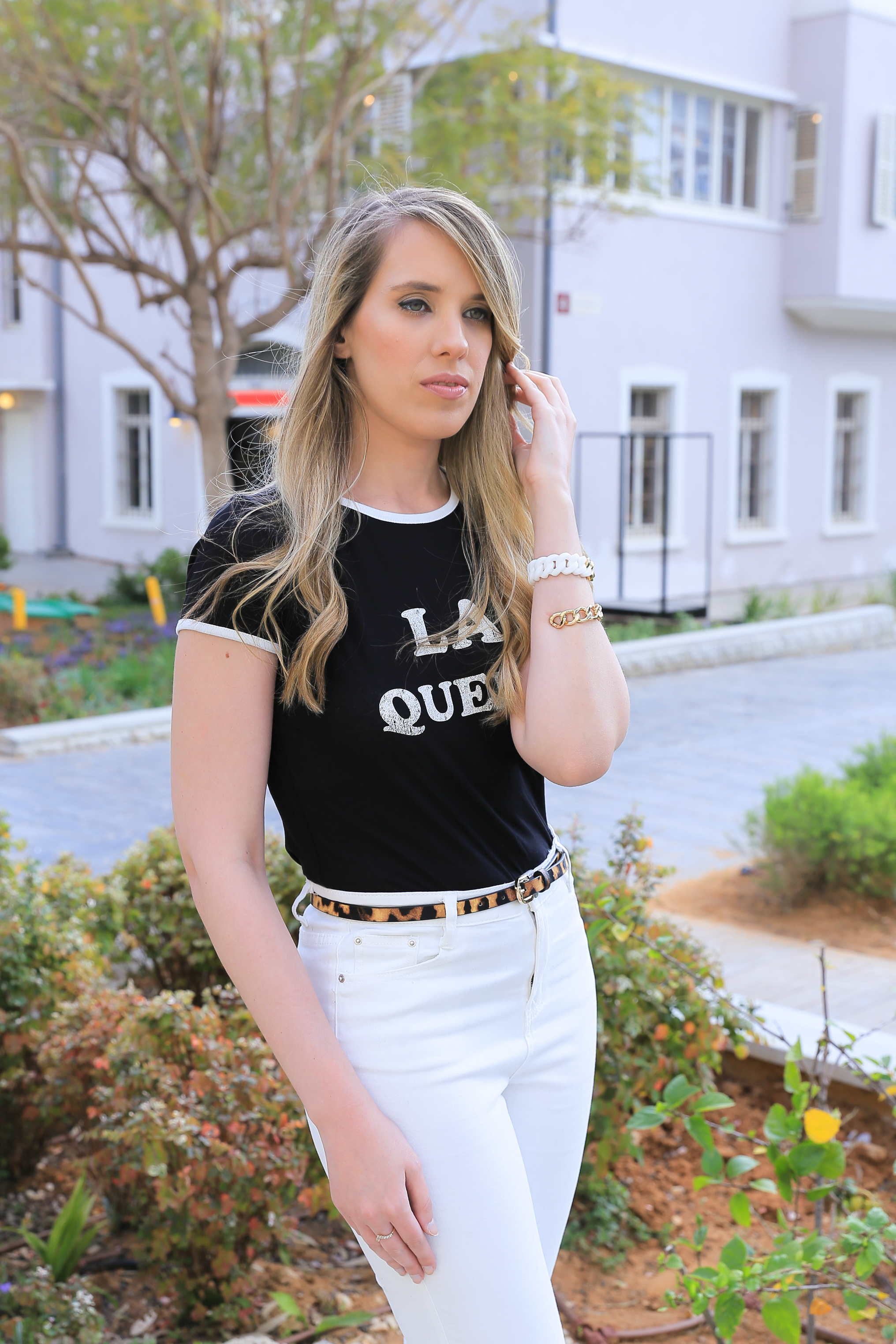 The hero piece here is the printed top which says LA Queen. The text itself is unique with strong message that boost up the wearers confidence. I mixed this top with a pair of leopard sunglasses and the white skinny jeans. The skinny jeans are white, similar to the edges of the top – complementing the entire outfit. Wearing a total black&white outfit can look very classic and timeless but at the same time it can look very predictable to others. For this reason I decide to add my own touch as usual, by adding the belt that suits well with the glasses. To underline the glasses and the belt I mixed it with some gold touches – rubbzz gold&white bracelet as you can see in the following pictures.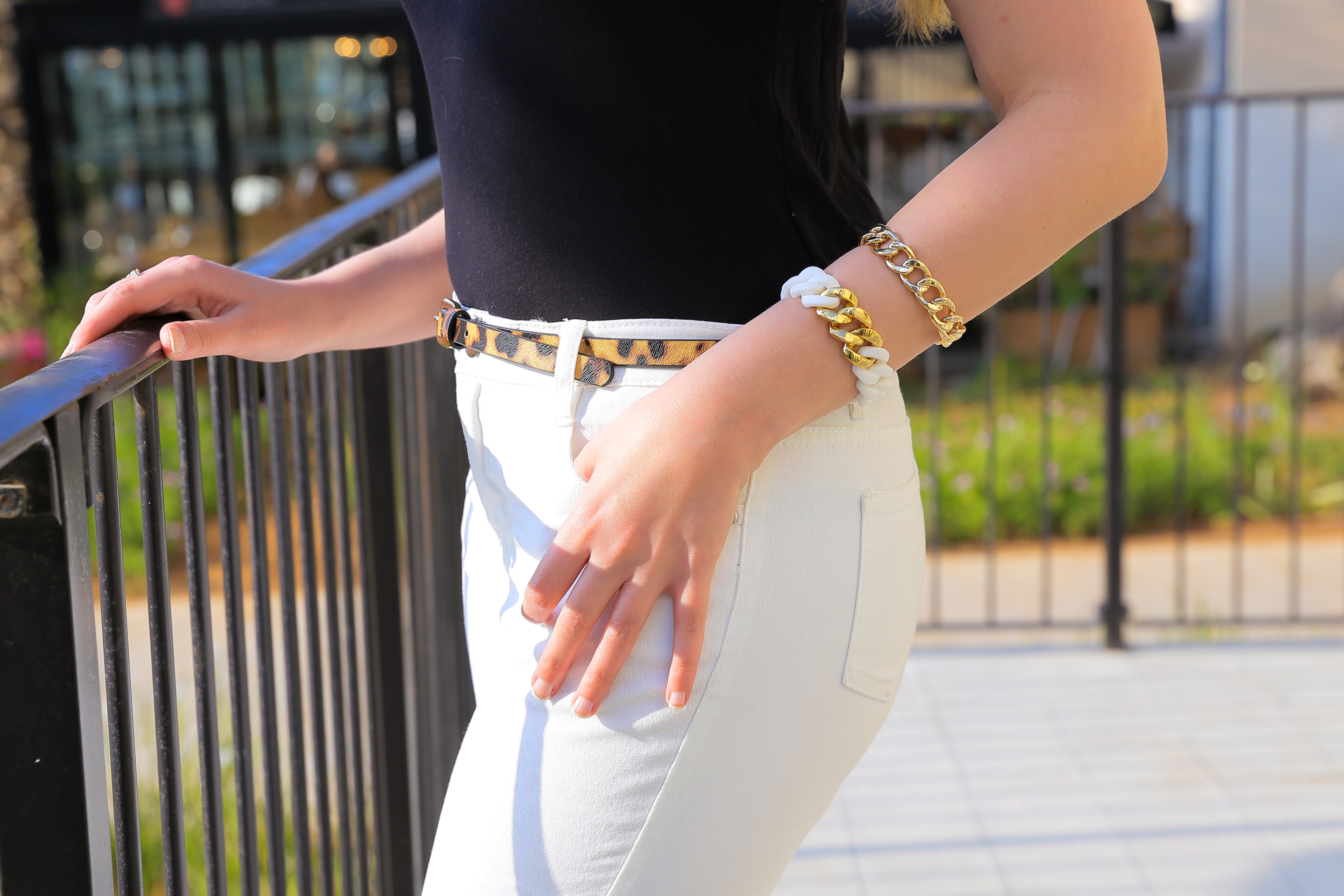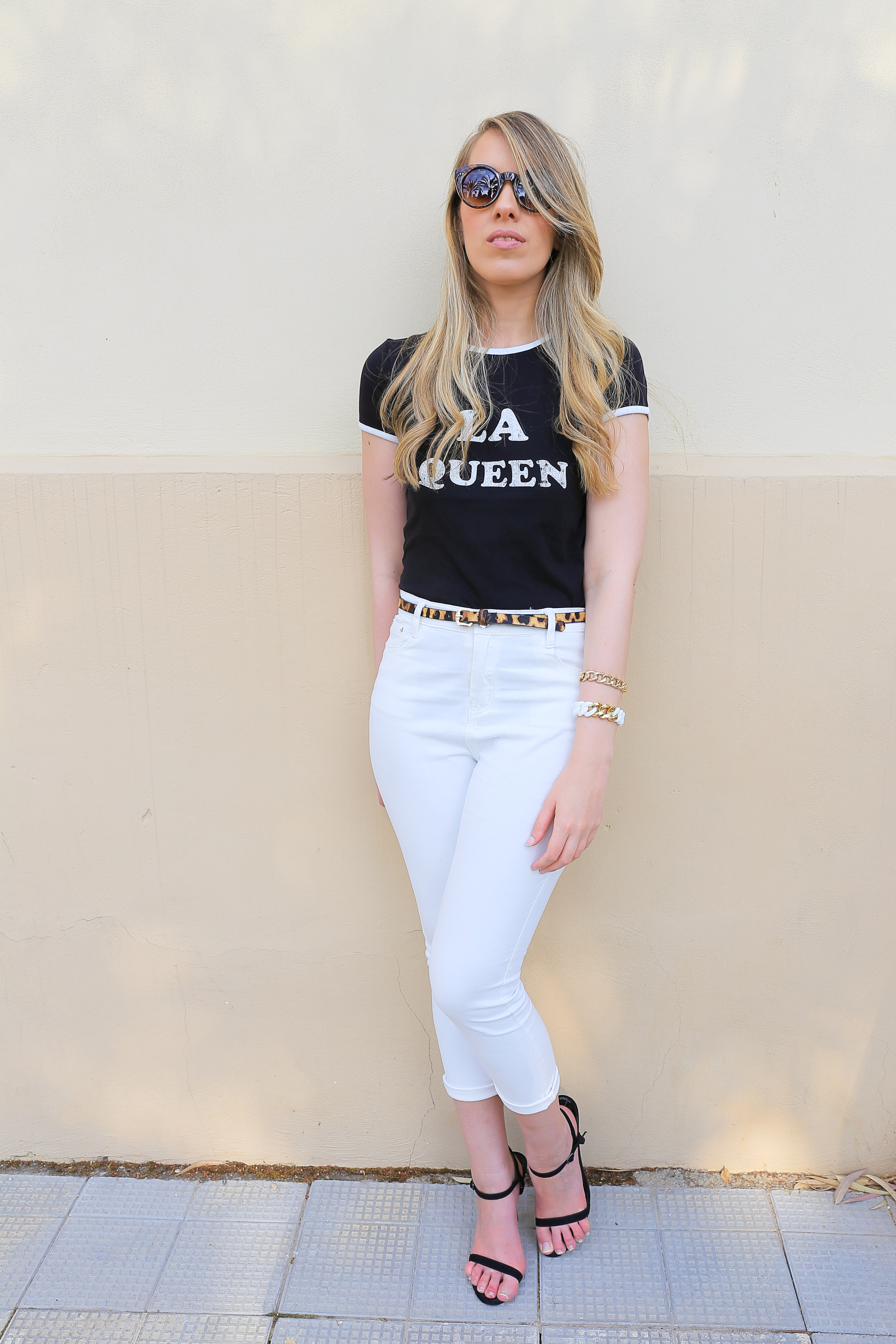 Leopard Sunglasses: A must item among your accessories. You can always wear it while you use calm shades such as white or black. The leopard prints from the sunglasses 'gives a kick' to the look.
White skinny jeans:
Although purchasing a pair of white jeans can be tough, as white colors tend to highlight certain areas of our body that we do not wish to be revealed. However it doesn't mean that we should avoid this color. Some tricks to choose a great pair of white jeans that can suit every body type is to look at its texture and fabric. Others thing to consider is the waist which can be low and high – depending on what fits each people. Finally find one that is flattering to my body shape. I usually wear denim jeans and for a long time ago I wanted to add some different colors to my closet wearing more summer shade pants. This pair of jeans suits perfectly with the sandals or booties either in black or nude colors. Black high heels: Since this time I choose to be classic, I'm wearing a pair of black high heels. If you choose to go for a more comfortable version of this look, you can easily change the heels with a pair of sneakers.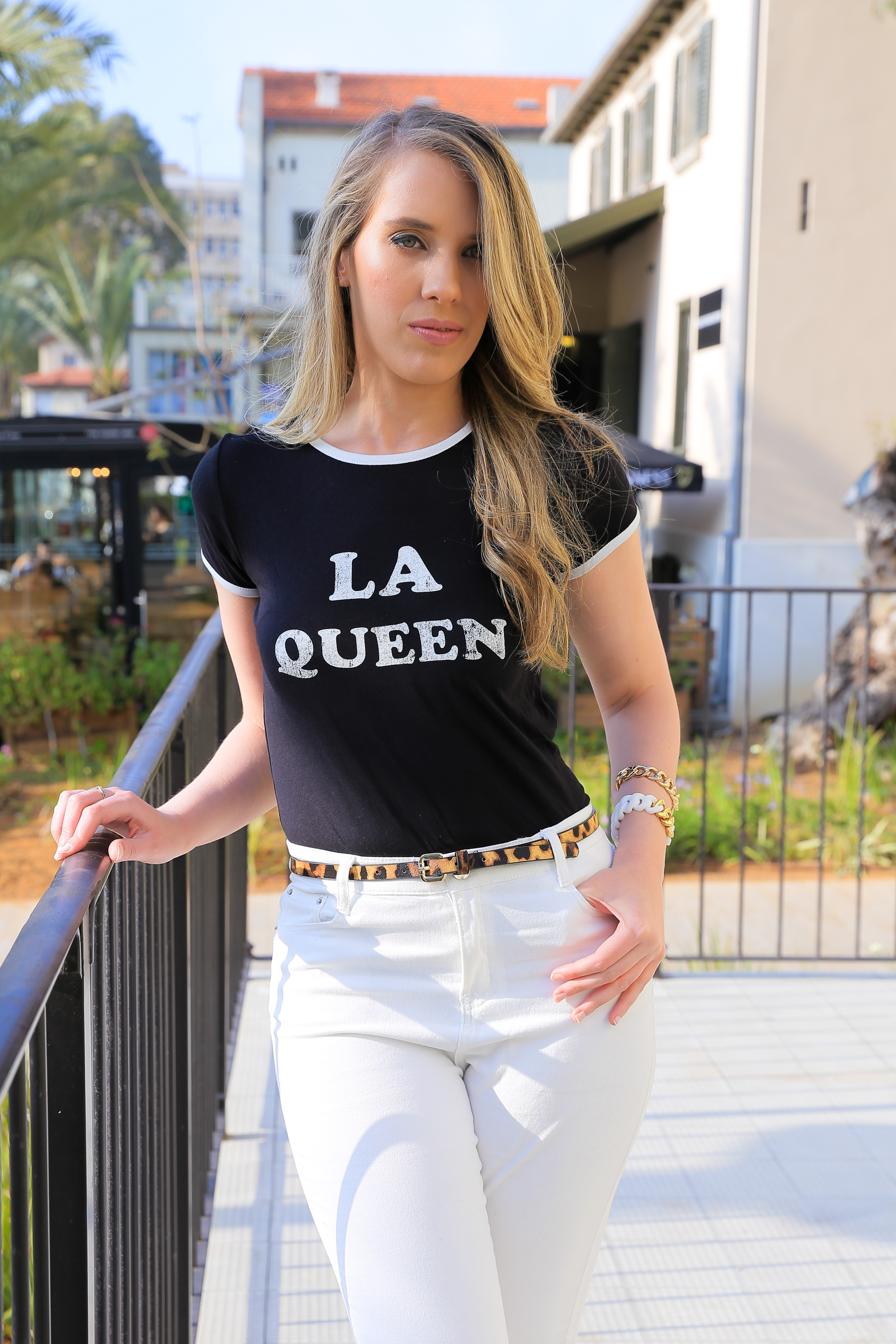 Let me know in comments if you liked my outfit
LA Queen top – forever 21
White jeans – FORVERE21
The Rubbzz gold&white bracelet
Leopard Sunglasses FOREVER21
Follow